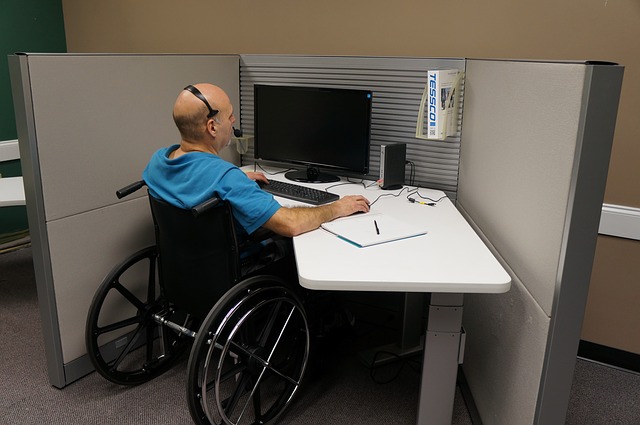 People with disabilities and impairments often find it difficult to maintain traditional employment due to a lack of flexibility and support in a typical work setting. As a result, many are turning to business ownership, finding it appealing to become their own boss and take control over their daily schedule and income. Becoming a successful business owner is certainly possible, especially for those who dig in and seek out resources that help make the plunge into ownership possible.
Think about assistive technology aspects when choosing a business
Ideas that can work well for people with impairments include building businesses around tech support, writing, graphic design, consulting, tutoring, or services related to one's specific disability. Once you have a business idea you want to pursue and get a sense of what type of technology assistance you may need, it is critical to put together a detailed business plan before pursuing financing help.
For many people with disabilities hoping to start their own business, some ideas could be a great fit but need some modifications. Financing can be a challenge when it comes to ownership, especially for those with some impairments that perhaps have greatly impacted their personal financial situation. Luckily, there are grants, loans, and other financial resources available that can help fund a business and make it easier to acquire the technology assistance needed to build a business successfully.
Financing help may be available to support necessary technology modifications
The Small Business Administration details that there are quite a few low-interest loan options available for people with disabilities who are hoping to launch their own business. In addition to low-interest loans, some entities specialize in providing grants to people who are seeking business ownership. Don't limit yourself to checking out the SBA, however. Be sure to look for state and local programs, ask your bank about options, and consider private and nonprofit entities that are looking to support businesses like yours.
These types of loans and grants can be especially helpful when technology assistance is needed in a new business. The Job Accommodation Network suggests pursuing multiple sources for funding assistance when it comes to assistive technology. Some needs will require little financing to get into place, but depending on the modification needs, sometimes things can get costly.
For example, Washington University's DO-IT details that for some people, special keyboards or types of software need to be utilized to allow an individual to easily use a computer. Changing the position of a monitor or even a power strip can make a big difference, and specialized devices can be used instead of a mouse. In addition, an aspiring business owner may need speech recognition software, Braille input devices, or speech synthesizers to assist in getting work done.
Networking can be key in business development too
Self Made shares some resources specifically geared toward aspiring business owners who have disabilities. As you formulate a business plan and think about financing options, it may help to start networking with others who have walked a similar path. Some people may find organizations like the US Small Business Administration to be a helpful resource, for example, and the International Network of Women with Disabilities blog shares additional resources as well.
Starting a business can be intimidating, especially for people with disabilities who have additional obstacles to work through. However, there are networking, development, and funding resources available that can make the process move along more smoothly. As you build your plan, you should consider what kind of technology assistance may needed to build your business successfully and be sure to look to loans and grants designed to help business ideas like yours flourish.
[Image via Pixabay]